Fine 19th and Early 20th Century Paintings
The North Point Gallery specializes in nineteenth- and early twentieth-century American and European paintings, with an emphasis on early California art. The gallery carries paintings by such nineteenth-century artists as Albert Bierstadt, Edwin Deakin, William Hahn, Thomas Hill, William Keith, Charles Dormon Robinson, and Raymond Yelland, as well as works from the plein-air period by John Gamble, Percy Gray, Chris Jorgensen, Lorenzo P. Latimer, Edgar Payne, William P. Silva, and Theodore Wores.
---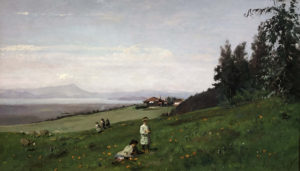 Now on view—

Early California Paintings:
Selections from the Ted and Mary Vinther Collection.

November 2 through December 7, 2019.

The gallery will be open Thursday through Saturday, 10 to 5 during the exhibition.
Other days by appointment.
~
The gallery is now located in Berkeley. Please visit!
2247 Fifth Street
Berkeley, CA 94710
510/549-9425
email: info at northpointgallery dot com