Paintings in Inventory (Click on an image for a larger view)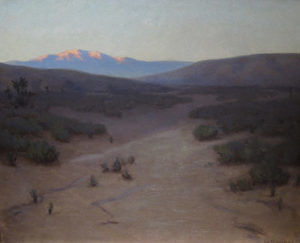 A native of New Zealand, John Gamble came to San Francisco to study art at the School of Design under Virgil Williams.  He became a favorite pupil and was a pallbearer at Williams' funeral in 1886.  Shortly thereafter, Gamble went to Paris for several years of study, returning to San Francisco in 1893.  When his studio was destroyed in the earthquake and fire of 1906, he moved to Santa Barbara where he was based the rest of his life.
In the first decade of this century, Gamble acquired a national reputation as a painter of fields of California flowers.  As the critic of the San Francisco Call wrote in 1907, "the glory of the tender springtime, with its yellow-green hills and the freshness of newly blown blossoms in great patches of brilliancy, has been painted by Gamble as by no other artist…" (Call, Nov. 3, 1907).  The same critic noted the "joyousness, freshness and ineffable purity" in Gamble's paintings when they were exhibited in San Francisco a year later.  (Call, July 19, 1908).  In this work, the bright yellow mustard flowers harmonize with the soft greens of the surrounding foliage and communicate a sense of the joy of nature.